MT200-AC/DC TIG WELDING SYSTEM
POWER & PERFORMANCE IN A COMPACT DESIGN
The MT200-AC/DC is the answer to both creativity and production driven TIG welding. This innovative TIG welding machine provides the ability to quickly and efficiently adapt to dynamic welding situations, while maintaining the same quality of experience you have come to expect from CK Worldwide.
Its compact portable design allows you to easily tackle any project from fabrication and education to aerospace and nuclear applications. Whether you TIG weld for enjoyment or as a career you will find that the MT200 can help you accomplish your toughest welding challenges.
With background testing performed by production welders and the best TIG welding professionals in the industry the MT200 delivers precision welding in a conveniently packaged system.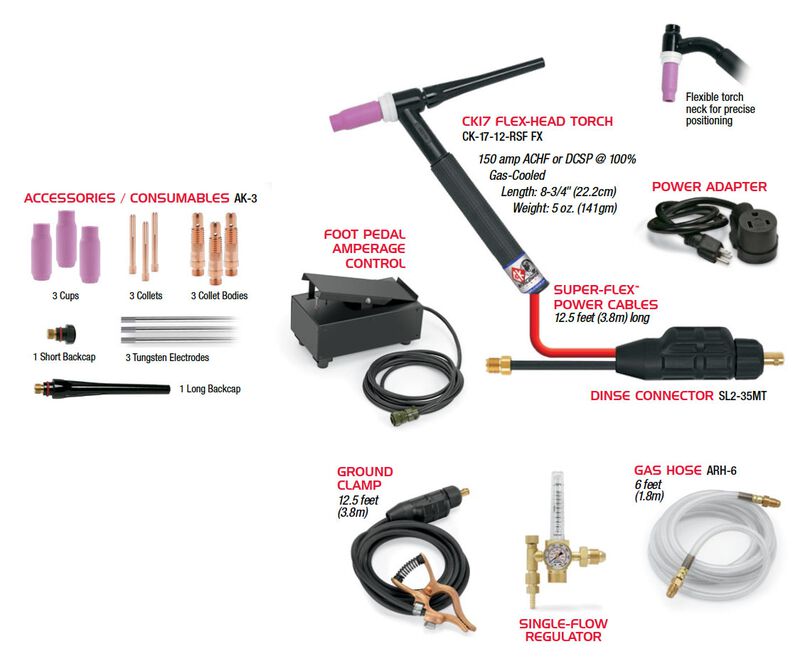 COMPLETE WELDING SYSTEM INCLUDES:
MT200-AC/DC
CK17 Flex-Head Torch with 12.5' (3.8m)
Super-Flex™ Cables CK17-12-RSF FX Dinse Connector SL2-35MT
AK-3 Accessories/Consumables Kit AK-3
Foot Pedal Amperage Control
Ground Clamp with 12.5' (3.8m) Cable
• Single Flow Regulator
• 6' (1.8m) Gas Hose ARH-6
• 220V to 115V Power Adapter
SPECIFICATIONS
Input Voltage
115VAC ±15%, 50/60Hz
220VAC ±15%, 50/60Hz,
single phase
Input Current
(I max)
115V: 21 Amps
220V: 34 Amps
Output Current
Range GTAW
115V: 5 – 140 Amps
220V: 5 – 200 Amps
Output Current
Range SMAW
115V: 10 – 110 Amps
220V: 10 – 160 Amps
Rated Output
GTAW
115V: 140A @ 15.6V,
40% duty cycle
220V: 200A @ 18.0V,
25% duty cycle
Rated Output
SMAW
115V: 110A @ 24.4V,
25% duty cycle
220V: 160A @ 26.4V,
30% duty cycle
Max. Open Circuit
Volts
74 volts
Gas Pre-flow
0.5 seconds
Gas Post-flow
0.5 – 20 seconds
AC Frequency
20 – 250 Hz
Pulse Frequency
1 – 200 Hz
Pulse Width
50%
Base Current
10 – 100%
Arc Start
High Frequency
Dimensions
Height: 15 in. (381mm)
Width: 8.5 in. (217mm)
Length: 20 in. (502mm)
Weight
32 lb. (14.5 kg)