REMOTE CONTACTOR CONTROL/
ELECTRIC SWITCH
Locking switch
Momentary switch
TIG power source contactor on/off
Good for 2T / 4T applications
ELECTRIC SWITCHES
LOCKING | MOMENTARY
Electric Switch Clipper Velcro® Models*
SWITCH TYPE
CABLE
LENGTH
ONE SIZE FITS ALL / ORDER #
LOCKING SW2

14 ft. (4.3m)
ESLCV12
26.5 ft. (8.0 m)
ESLCV25
MOMENTARY SW3

14 ft. (4.3m)
ESCV12
26.5 ft. (8.0 m)
ESCV25
---
SW2 - LOCKING SWITCH COMPONENTS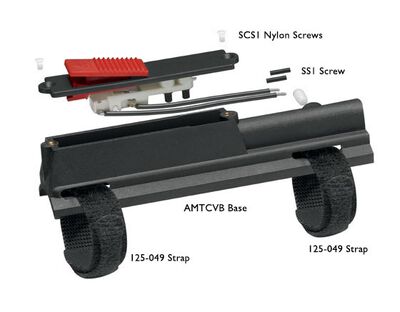 TO REPLACE SW2 ELECTRIC SWITCH:
Carefully solder the control wires to the switch leads and insulate the connection with heat shrink tubing or tape. Make sure that final diameter is not too great to fit inside the control wire housing.
For best results, ease the switch into the rear part of the handle cavity first (a small screwdriver is useful in easing the lead wires into the cavity). Then, gently push the switch forward and down into the proper position and secure it with the switch screws.
Secure the control wire with the nylon set screw at the rear of the handle.
SW3 - MOMENTARY SWITCH COMPONENTS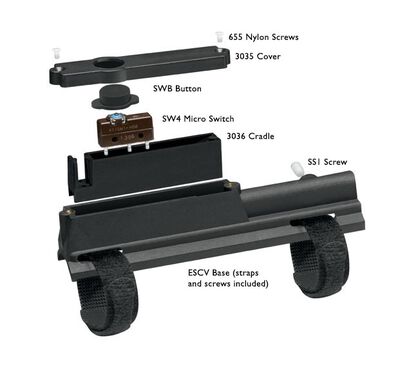 TO REPLACE SW4 PLUG-IN SWITCH:
Remove the nylon switch cover screws, switch cover and switch button.
Unplug the inoperative micro switch and plug in a new micro switch.
Re-assemble the switch and switch cover over the new micro switch and secure the cover to the handle with the nylon switch screws.
CAUTION: DO NOT OVERTIGHTEN THE NYLON SCREWS.